What should Canadians make of Adil Charkaoui?  I'd be surprised if you haven't heard of him.
Mr, Charkaoui is one of the "famous five" (no not that famous five – the Canadians that helped get women the vote).  No, the other "famous five" – Muslims subjected to national security certificates.
To summarize, security certificates are a tool used by the Canadian government to seek the removal of non-citizens deemed a threat to security.  They have been supported and criticized and gone to the Supreme Court on at least one occasion.  The main beef is that the information used to issue the certificate is intelligence that is not presented in a court of law and hence cannot be challenged.  A variety of stop-gap measures (e.g. the use of an amicus curiae) seems to have satisfied nobody.
In addition to Mr, Charkaoui, Messrs.  Harkat, Mahjoub, Jaballah and Al Merei have been subject to the tool.  All these cases have been analyzed ad nauseum in the courts and in the court of public opinion.
Mr. Charkaoui had his certificate quashed when CSIS refused to turn its intelligence over.  He got his Canadian citizenship in 2014 and is suing the government.
All's well that ends well, right?
Hmm, maybe.
The government's initial allegations – never proven in court – were that Mr. Charkaoui attended a terrorist camp in Afghanistan.  Now, in the wake of a series of departures – real or intended – from Montreal by wannabe Islamic State extremists, his name has come up again in government circles.  But this time it is the Quebec government laying the allegations.
A member of the Parti Quebecois in the MNA called him a "merchant of hate" and directly accused him of indoctrinating young extremists (see story here).  The MNA member claims that Mr. Charkaoui, a religious teacher and community leader, is the common thread to these departures.
Not surprisingly, Mr. Charkaoui has denied the allegations and labelled them a witch hunt and a new form of McCarthyism.
So, where do we stand?  We have an individual once held on a national security certificate on suspicion of terrorism links and an MNA who claims that he is up to no good.
None of this has been proven in court and no charges have been laid to date.  In our system of justice there is a presumption of innocence.
What I do know though, is that someone – or perhaps several someones – played a role in the radicalization of these youth because this process does not happen in a vacuum.  Is Mr. Charkaoui that person?  We do not know since we are currently at "she said he said" (literally as the MNA who accused Mr. Charkaoui is female).
Adil means "justice" in Arabic: perhaps Mr.. Charkaoui's time with the justice system isn't quite over.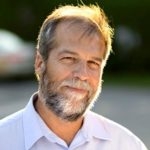 Latest posts by Phil Gurski
(see all)