| Date | Country | Group (if known) | Casualties (D/W) | MO | Type | Source |
| --- | --- | --- | --- | --- | --- | --- |
| Feb 27, 2021 | Somalia | Al Shabaab (AS) | 2/0 | Guns | Islamist | Learn More |
| Feb 27, 2021 | DRC | Allied Democratic Forces (ADF) | 10/0 | Machetes/decapitation | Islamist | Learn More |
| Feb 27, 2021 | Nigeria | Boko Haram (BH) | 2/0 | Guns | Islamist | Learn More |
| Mar 1, 2021 | Somalia | AS | 1/0 | Guns | Islamist | Learn More |
| Mar 2, 2021 | Nigeria | ISWAP | ?/? | Guns | Islamist | Learn More |
| Mar 2, 2021 | Afghanistan | ISIS Khorasan (ISKP) | 3/0 | Guns | Islamist | Learn More |
| Mar 2, 2021 | DRC | ADf | 8/0 | Guns | Islamist | Learn More |
| Mar 4, 2021 | Afghanistan | ISKP | 1/0 | IED | Islamist | Learn More |
| Mar 5, 2021 | Somalia | AS | 2/3 | Guns | Islamist | Learn More |
| Mar 5, 2021 | Somalia | AS | 20/30 | IED | Islamist | Learn More |
| Mar 6, 2021 | Afghanistan | | 3/8 | IED | Islamist | Learn More |
| Mar 6, 2021 | Somalia | AS | 1/4 | Suicide bomber | Islamist | Learn More |
| Mar 7, 2021 | NIgeria | BH | | Guns | Islamist | Learn More |
| Mar 7, 2021 | Afghanistan | Taliban? | 1/4 | IED | Islamist | Learn More |
| Mar 7, 2021 | Somalia | AS | 3/6 | Landmine | Islamist | Learn More |
This week in terrorism: March 1-7, 2021 – Borealis Threat & Risk Consulting
Totals: 15 attacks; 57 dead; 55 wounded; 15/15 attacks carried out by Islamist terrorists (100%)
We are inundated with op-ed pieces and analysis on terrorism in ways that would have been all but impossible before the attacks on New York and Washington in 2001 (almost twenty years ago!).
Specialist journals have arisen, offline and online news sources regularly feature stories on terrorist acts and there has been such a proliferation of 'terrorism experts' that it is hard to know what – or whom – to believe and why.
At a time when some want us to believe that a nebulous 'movement' called right-wing extremism has usurped terrorism public enemy #1 of late – i.e. Islamist violent extremists of the Al Qaeda, Islamic State and others' ilk – it is important to have a fact-based set of data points that can inform opinion, both at the government and public levels. This weekly feature brought to you by Borealis Threat and Risk Consulting in Russell, Canada is a modest attempt to do juts that.
Every Monday you will receive a report in table form of all the acts that can be deemed terrorist ones (recognising the controversy surrounding the meaning and scope of that term) around the world that occurred over the preceding seven days. It does not purport to be exhaustive in nature: hundreds of open sources are scanned on a daily basis to provide the raw data used to populate the chart. Nevertheless, it is believed that nothing of a truly significant nature will be missed.
With the help of this weekly report readers will be able to decide for themselves what the planet's major terrorism trends are, who the actors are, and whether we are seeing a shift in tactics or ideologies.
We welcome all feedback on this product, as well as omissions (with original sources please!) to help us make it better.
We hope you enjoy this new feature from Borealis. Please let us know what you think!
The attacks listed are taken from open source and there is no pretense that it is exhaustive (although any major attack anywhere would most probably have been taken up by some media source somewhere).
The purpose of this series is to present facts on where terrorism is happening and who is behind it. It is an effort to document what is actually happening on the ground rather than speculate on which set of terrorist actors poses the greatest threat to public safety and national security.
More This Week in Terrorism
Just because someone says something about terrorism does not make it so: claims are made all the time but not all these are backed up by any data.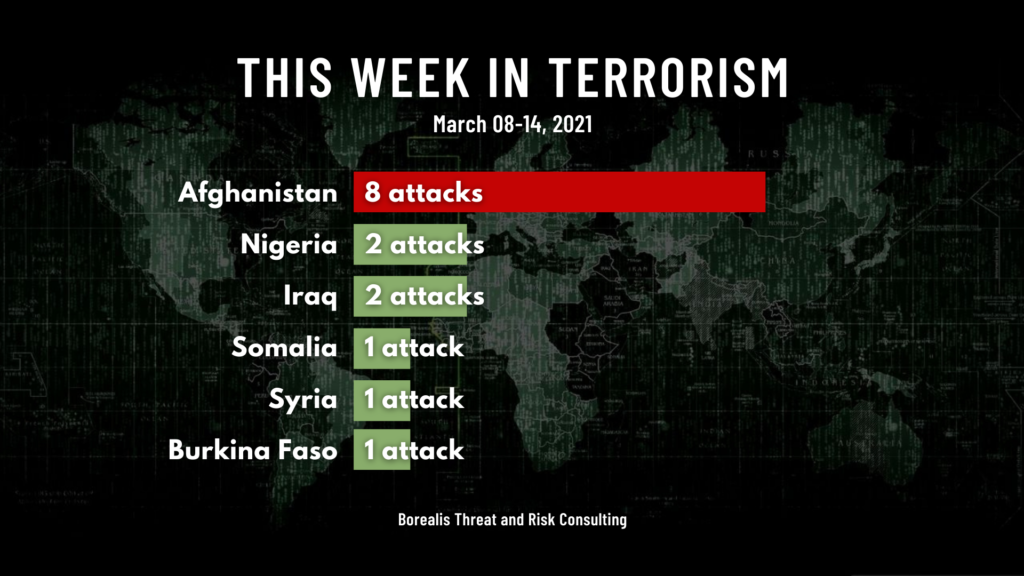 Listing all acts of terrorism that occurred in the world last week from the 8th to the 14th of March 2021.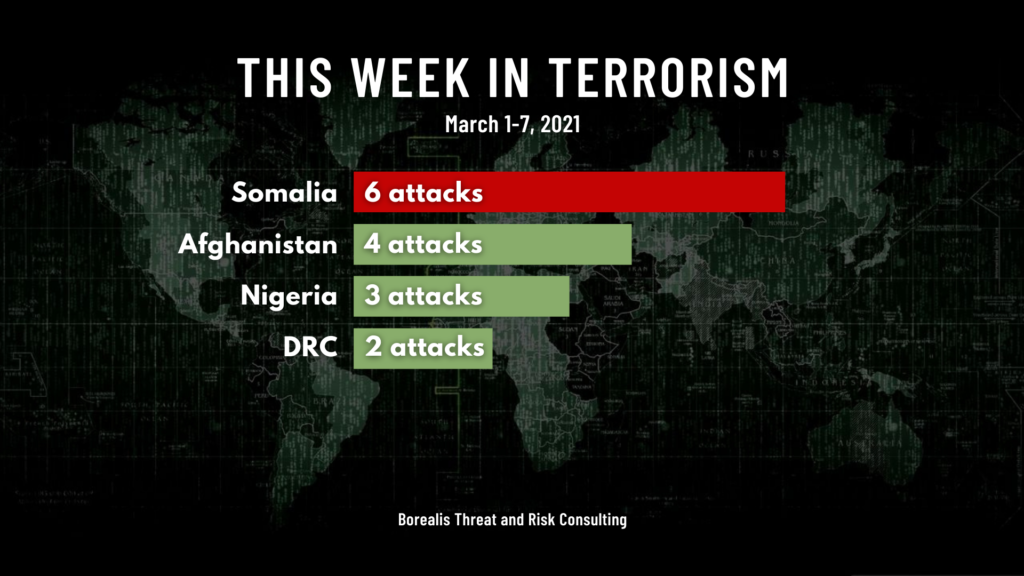 Listing all acts of terrorism that occurred in the world last week from the 1st to the 7th of March, 2021