I hope to see you to my talk at Fleming College in Peterborough on Wednesday March 11 to discuss how worried we should be about terrorism in Canada.
PETERBOROUGH, CANADA — Although terrorism has been around for thousands of years used by both state and non-state actors for political, religious and or ideological reasons – not until the evolution of modern globalization has terrorism had such an impact on society in general.
Terrorist acts often cause ripple effects throughout the world. The most obvious is the fear and apprehension caused by the loss of life and destruction of property and resources. Terrorism can also seriously impact the economy by creating market uncertainty, xenophobia, loss of tourism, and increased insurance claims.
Regardless of where we live or what we do the lives of every Canadian has been influenced by the fear of terrorism… airport security, rail security, harbour security, cyber security, border security, public and private buildings, police and military establishments, educational institutions, special event venues, industrial complexes, places of worship, etc.
Protection, Security & Investigation Speaker Event Featuring Phil Gurski
Terrorism in Canada – How worried should you be about terrorism in Canada?
11 March 2020
Fleming College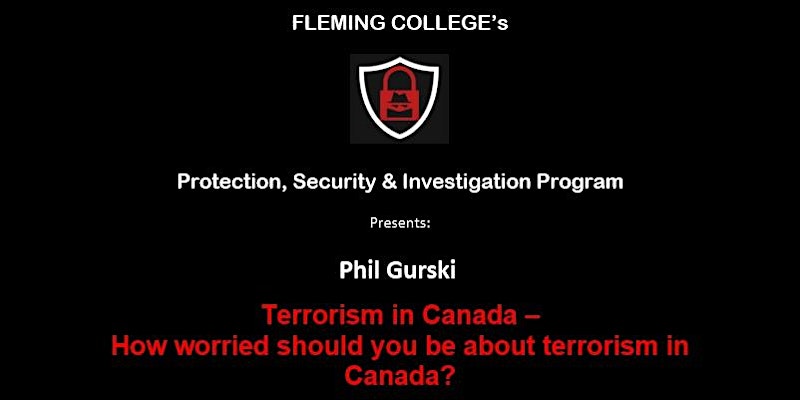 About this Event
5:30pm – Meet & Greet, light refreshments will be served
6:00pm – Welcome to Fleming College
6:10pm – Phil Gurski Presentation
7:00pm – Question & Answer Period
7:30pm – Book Signing and Networking
Location
Fleming College
599 Brealey Drive
Peterborough, ON View Map
Very few major public or private projects or initiatives both here in Canada and abroad proceed without a thorough Threat Risk Assessment (TRA). As a rule, one of the most important variables in any TRA is the threat posed by acts of terrorism.
Please join us to hear Phil Gurski's expert insights on terrorism in Canada.